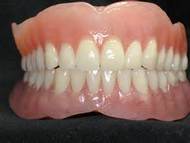 Full Dentures: Full Dentures replace all of a patient's teeth, providing support for their cheeks and lips, and allowing a person to once again function and regain confidence in their smile.

Designed with comfort, stability, esthetics and durability in mind, full dentures are usually made of plastic. Regular dental examinations are still important for for full denture wearers to examine oral tissues for evidence of sore spots or lesions. Gums and underlying bone may shrink over time, resulting in looseness or poor fit. It may be possible to "re-line" the denture to regain the best fit or sometimes it may need to be replaced.


---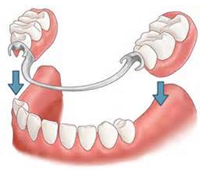 Partial dentures replace only several missing teeth, allowing improved chewing and keeping the remaining teeth from shifting or becoming crooked.

Partial dentures can be made in all plastic or a combination of plastic and metal. We will work with you to determine the best type of partial denture for you.



---