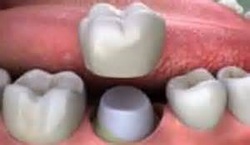 Crowns:

Crowns are a long-lasting option used for the ultimate strengthening of weak or broken down teeth. They may also serve as anchors for bridges or partial dentures, can be placed on dental implants or in cosmetic treatments. Crowns may be made of gold alloys, porcelain-fused-to-metal or porcelain only and, with proper care, can last a lifetime.

Fitting a crown typically requires two visits to our office. At the first appointment the tooth is shaped, removing any decay, an impression (mold) is made and a temporary crown placed. At the second visit, the temporary crown is removed and the final crown is cemented into place.
---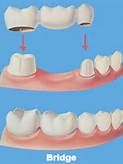 Bridges:

A dental bridge is used to replace missing teeth. A bridge attaches an artificial tooth to adjacent natural teeth, helping to maintain proper tooth alignment, aide in speaking and replace lost chewing function.

While bridges are visually appealing, there are many health-related reasons bridges are important as well. Missing teeth cause stress on supporting structures (bone and soft tissues), which could lead to tipping of other teeth, changes in bite, trapping of food, or decreased ability to chew properly.

Fitting a bridge is very precise work and usually takes two dental appointments. Similar to a crown, we start by making impressions of your teeth, shaping the natural teeth for fitting of the bridge and sending the case to a lab for the bridge to be fabricated. The bridge is seated at a second visit.

---