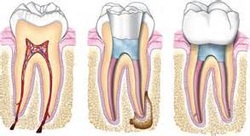 Endodontics:

Inside each tooth is the pulp. It consists of nerves, blood vessels and other cells. It provides nutrients and feeling to the tooth. When that pulp gets diseased or injured, it must be removed via a procedure called a root canal in order to save the tooth and prevent the need for a bridge or dental implant.

Symptoms of infection may include swelling of the tooth, sensitivity to temperature, or pain in the tooth and gums. During root canal treatment, the damaged pulp is removed, the canal of the root is cleaned out, disinfected and sealed off to protect it from further infection.

The tooth is then restored with a filling material to seal the access opening and complete the endodontic treatment. We may recommend crowning of an endodontically treated tooth if it is weak and there is a risk of tooth fracture.
---