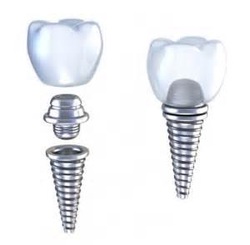 Dental implants are like artificial tooth roots. Titanium posts are surgically placed into the jawbone by the oral surgeon where teeth are missing. They provide a foundation for artificial replacement teeth.

Once the implant is solidly anchored in the bone crowns, bridges, fixed or removable partial or full dentures can be placed. Implants look, feel and function like natural teeth.

Dental implants are a good alternative to bridges or partial dentures for people with generally good oral health when replacing a single missing tooth and they can provide a means of replacing multiple missing teeth.

---